Revelation 1:7
Behold, he cometh with clouds; and every eye shall see him, and they also which pierced him: and all kindreds of the earth shall wail because of him. Even so,

Amen

.

Psalms 82:6
6

I have said, Ye are gods; and all of you are children of the most High.
7

But ye shall die like men, and fall like one of the princes.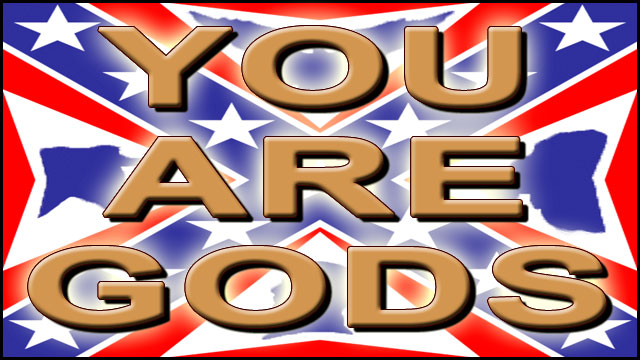 We are the Eloheem - the children of YAHWAH God
the Most High God
Spiritual Light Stately beings in Flesh and Blood Adamic White Bodies both
'In' and 'On' 3D earth
Who had to give up their 'real' spiritual bodies in order to enter 3D earth
Their Shakana
Genesis 1:8
8

And ELOHEEM called the firmament Heaven. And the evening and the morning were the second day.
We are a dichotomy
An identifying Spirit and a Soul
A small portion of Our true selves
And an accompanying Shakana - the Holy Spirit - the Spirit of Truth - the Dweller (John 14:26)
John 14:26
26
But the Comforter, which is the Holy Spirit, whom the Father will send in my name, he shall teach you all things, and bring all things to your remembrance, whatsoever I have said unto you.
Mispelt 'comforter' in the KJV of the Bible
At Matthew 13:30 'the' Barn
Which is the Body of YAHWAH God
Who is YAHWASUA - the Body of Jesus Christ - the Anointed (by YAHWAH ELOHEEM God) Messiah
His Spirit bears witness with Our Spirit
Resurrection and Eternal Life only applies to the Eloheem
'the' Death likewise only applies to the Eloheem
"As in 'the' Adam all die (the Death),even so in Christ shall all (Eloheem) be made alive" KJV -
1 Corinthians 15:22
the same that Die are made alive
Then the Cosmos - World - is Delivered from the "Bondage of Corruption"
the Eloheem Who are made alive (Delivered from Bondage of 'the' Death) - perfected - grown into adults - will deliver the Cosmos
We come in here Dead - into the Bondage of 'the' Death
Which is a cycle of Life and Death
As opposed to Death which is final
For the Sins committed against YAHWAH God in the Garden of Eden
Death is not what science perceives it to be
Nothing in the Cosmos dies - but does cycle
Science has an inkling as to this and has forged it's Law known as the 'Conservation of Matter and Energy'
Since everything is ENERGY - none of it is ever lost - dies
Eloheem do not begat Eloheem
But Eloheem are begat but once probably in each generation
So King Solomon was not Eloheem
Christianism keeps all in the bondage of fear with its death, heaven and hell dogma. Even in this idolatry is the concept that all men are going to exist for ever.